about us


The Jordi L. Vidal company propose you performances that combine:
• theatre and its journey through time
• circus and its journey through the instant
• dance and its journey through dream.



Shows currently touring are:
• Adventures in planet love dance, physical theatre and floor acrobatics
• Alamor dance and puppetry
• An Encounter dance and floor acrobatics
• Adventures of two men dance, physical theatre and floor acrobatics

For indoors and outdoors
Visuals and non-verbal.

With universal themes: they can be understood and appreciated in various cultural contexts and by all sectors of society.

Intergenerational: accessible to the general public: children, schools, young people, adults, the elderly …

They can also be enjoyed by audiences with a hearing or with a physical or mental handicap.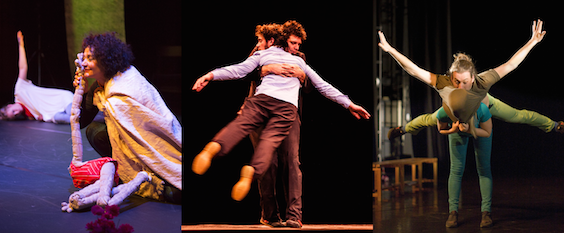 With a great economic viability thanks to its affordable fees / quote , its light technical rider and transport ( costumes and props in only 1 baggage)
---

Our shows can receive the travel expenses reimbursement by WBI

The Belgian and French Embassies and the French institutes and alliances have also supported us.


We also offer you stage arts workshops in circus, dance, physical theatre ... for adults and children with a public final presentation.
---

We also propose you to create with your local inhabitants, audience:
• Flash Mobs
• Public space creations
• Site specific and tailor made creations


The company's creative horizon reaches all arts. We have experience in multidisciplinary work, combining mouvement with chamber music ensembles, street theatre and circu companies, video creations and art installations…

Past Works:
"Chrysalis" dance and acrobatics; "Oxymoron" clown and dance; « Art!stik-Labor » with Aquanaut circus and Ensemble Marges; « I'm Fine, Thank you ! " « Piano Fortissimo »; « Le Nombril Du Monde » at Espace Catastrophe; « Gopher Mambo Xtra » for Le Bal Moderne/Rosas-Parts; « Taïteul » with La Scabreuse circus and many others.

With over 600 performances, the creations have been presented all over Europe, but also in Mali, Morocco, Brazil, Philippines… among others, at: Ferme du Buisson, Halles De Schaerbeek, Chassepierre, MiramirO, Mercat De Les Flors Barcelona, Culturgest Lisbon, Spoffin, Watch This Space London…
---




about us Videos
Jordi L Vidal creations