OOups! solo version

An original performance combining circus (juggling) and urban culture (beat boxing)

A trader is on the run after a misappropriation of funds… A crazy, nutty show with an unbridled rhythm, that talks about money in a humorous, musical and visual way
---
★ It has enormous international appeal for all ages because of its universality, lack of text and current affairs topic: from schools to the general public.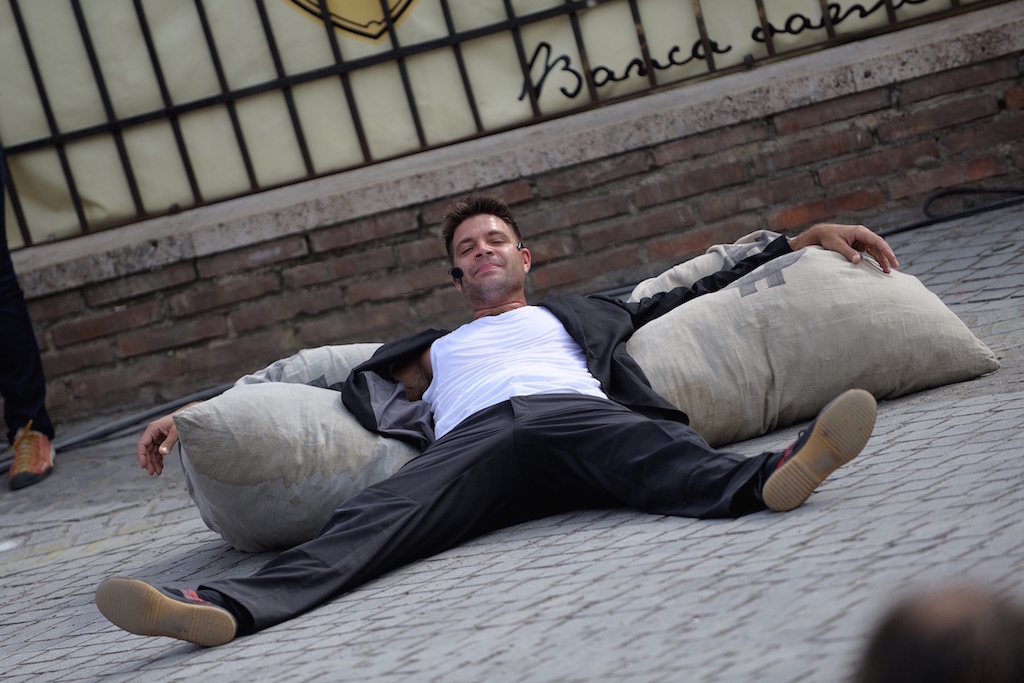 ★ With a light technical rider, it is available in different formats between 10 and 25 minutes, suitable for indoor and outdoor.
★ As a complement just after the performance, Interactive workshop - show with the audience between 10 and 25 minutes learning beat box techniques with a rhythmical body percussion choreography.

★ We are only 2 persons travelling and our set, costumes and props can be included in Company's luggage (it doesn't need to be freighted).

★ We also offer creative workshops in circus, rythm, dance, physical theatre ... for adults and children with public final presentation.

★ Our projects can receive support for our travel expenses from WBI-Wallonie Bruxelles International.
The Belgian and French Embassies and the French institutes and alliances have also supported us.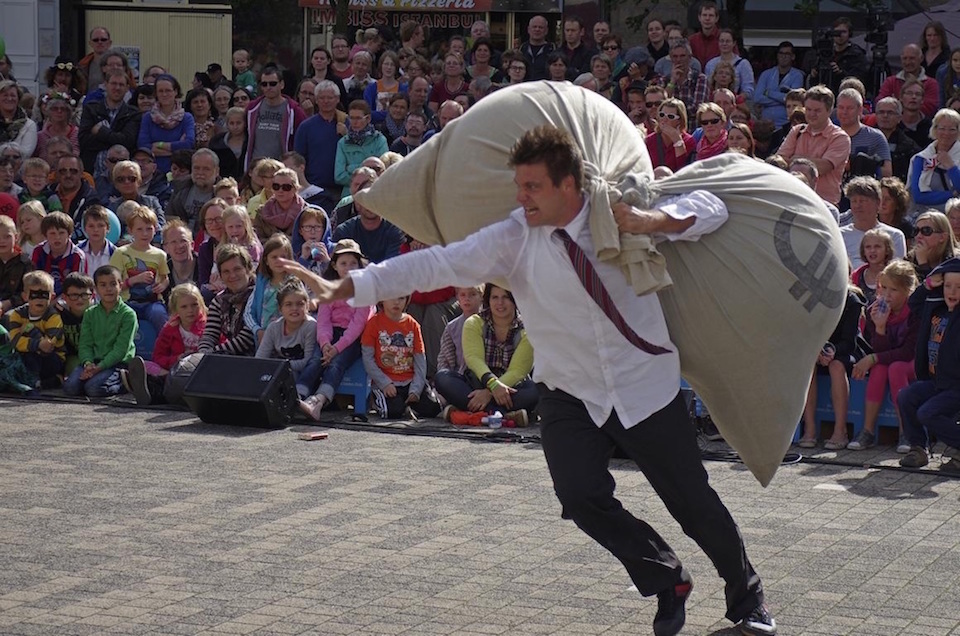 ---

• Performer, diabolo, beat box: Gaspard Herblot
• Concept, direction, choreography: Jordi L. Vidal
• Costumes, accessories, set: France Lamboray
• Light, sound and video creation and technician: Christophe Lecoq
• Photography and graphic design: Bastien Ranschaert / Spictacle
• Sound adviser: Nicolas Othmezouri

Coproduced by:
"Aide à la Création" Service du Cirque arts forains et de la rue FWB, MiramirO Gent and Maison de la Culture de Tournai, Belgium and Compagnie Osmonde France

With the support of:
CC Le Fourquet, Visueel Festival Visuel, CC Escale Du Nord, GVC De Kroon, SACD, La Maison Du Cirque, Théâtre de la Montagne Magique, WBTD Wallonie Bruxelles Theatre Danse, ICEC Institut Català d'empreses Culturals.

Creation residencies:
Woluculture, Espace Catastrophe, La Roseraie, Latitude 50 Marchin, CAR Centre Des Arts de la Rue d'Ath

OOups! solo version Videos
Ooups solo version
Agenda OOups! solo version
Coming performances /
prochaines représentations /
Proximas representaciones:

03rd July 2021
At festival Zommer Carrousel d'été, Uccle-Ukkel, Belgium

04th July 2021
At festival Weekend au bord de l'eau La Louvière,Belgium

14th August 2021
Micro Festival, Dortmund, Germany

04th September 2021
festival TRAM !
Comines-Warneton and Dranouter Belgium

11th September 2021
At 3:30pm + 5:30pm Fete de la jeunesse
Site Rempart des Moines / Papenvest, Brussels, Belgium